This article is about the limitation of Notepad. It refuse to write particular number of words with pre-defined letters in each word. To understand it correctly read this article.
Friend,
Notepad tricks are very popular now a days. In my recent article on
Virus creation for fun
, I show you one use of notepad, but the notepad is not limited to that purpose, that's why it is really very important to understand the working of notepad. Notepad is a text editor and it can be used to program in any language as it allow to define your custom file extension for any code written in Notepad.
Being default text editor of Windows, Notepad become more important and need more focus if you are going to learn programming in any language except for the one that has its own IDE ( Integrated Development Environment, Will be discussed later in this blog ).
Starting Notepad
There are two main ways of starting this application or you can say
The Handy Ornament
.
Starting From Run
This is the method that I prefer to run any program as it took less time but need more accuracy. Starting from icon is for beginners, not for programmers. Press Windows button + R key on your keyboard and a dialogue will appear. Now write
notepad
in that dialogue box and hit Enter. Notepad will be opened.
this will open the notepad which is looks like as given below:-
Finding the Icon
This is another method. You may Go to start -> all programs -> Accessories -> Notepad or you may also find a shortcut for it in program files in your Window drive of my computer.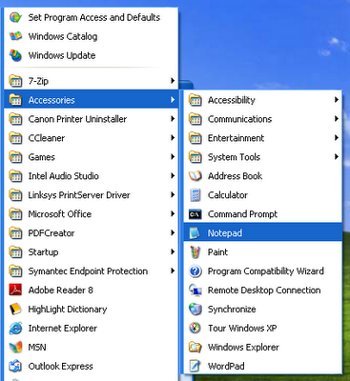 Error in Notepad
Whenever you type a sentence of 4-3-3-5 letters i.e. A sentence whose first word is of four, second word is of three, third letter is again of three and last letter is of five words, like "bush hid the facts"(without comma or quotes)
And saved it and exit Notepad.
Then on opening the same file, You will find error in sentence.
This is due to the programming of Notepad and sometime due to the programming in fonts. If you have custom fonts then most probably you will get this error. Try this and avoid this in your programs.